Blake Bossart
---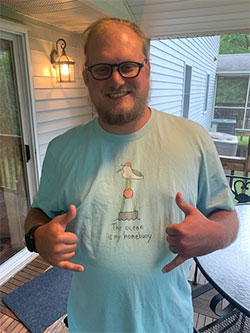 Q: What changes have happened since your post on Deldhub.com?
I have been married not for 5 years. I have a 4-year-old daughter and a 2-year-old foster daughter. I just bought a new house in Newark and I am working on moving from Wilmington to be closer to my family.
Q: What is your current job position?
I work as an admin for UD at the Center for Disabilities Studies.
Q: How long have you been in that position?
12 years.
Q: Are you involved in any extra curricular activities in your community?
Foster care, AV team at church.
Q: What do you want to accomplish/do in the next five years (dreams/goals/ aspirations)?
I hope to be settled in my new house and continue to update it. I hope to have adopted my 2 year foster girl and have both girls in good schools.
Q: Do you live on your own? Group house?  With friends?
I live with my wife and our 4 year old and we have a 2 two old foster girl.
Q: Would you like to say something about yourself that could inspire others?
Keep your head up and be strong. Remember if you get lucky there is always a second chance.