Transportation needs vary from person to person. Whether you drive your own car, ride public transportation, like to travel, or need adaptive services, there are resources to assist you on your journey.
Getting around the State of Delaware has become easier for individuals with disabilities because of the public and private service providers. Delaware's DART and Paratransit system have become heavily relied upon by many individuals with disabilities in our State. New Freedom another option, also offers transportation state-wide. Our Tool kit offers information to help all people be as mobile as possible.
Delaware's Road to the Future with DART
First State Travel Training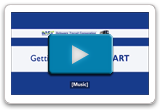 Getting Around Using DART
How to use DART First State Fare Boxes
Menox Car Hand Control
Motorcycle Modified for Paraplegics
Paraplegic Changing Tires
Paraplegic Boarding a Plane
Paraplegic Car Transfer
Paraplegic Instructional Driving Video

The DelAWARE DisABILITY Hub website includes links to other Internet and third party resources. These resources are provided for your consideration only and are not intended to be considered an endorsement. Likewise, the exclusion of an agency or organization does not imply disapproval or a lack of support by GACEC, or DelAWARE DisABILITY Hub.