The Governor's Advisory Council for Exceptional Citizens office is located at:
George V. Massey Station
516 West Loockerman Street
Dover, Delaware 19904
302-739-4553
302-739-6126
Feel free to Email Us if you have any questions.

Executive Director
For over thirty years, Wendy Strauss has worked with people in a helping profession. Her interest in working with and helping people led her to obtain her Associate's Degree in Human Services and she graduated summa cum laude with her Bachelor's Degree in Human Resource Management. Wendy enjoys working for and with individuals with disabilities and young children the most.
Previously, Wendy worked for the Polytech Adult Education program as a Certified Parent Educator and Program Coordinator and for the Delaware Guidance Services' "Act Now" program as a Crisis Therapist. She has worked as a drug and alcohol counselor as well as a counselor for children with mental health needs. Wendy also worked in the Adult Probation and Parole Department in the work referral and work release programs.
In addition to her work as a counselor, Wendy has also been an Instructor and Program Developer for Delaware Technical and Community College teaching college level courses, paraprofessional courses and job readiness courses.
During her fourteen year tenure as a paralegal with the Community Legal Aid Society, Inc., Wendy specialized in disability law and senior citizen law. As a paralegal, she worked with a diverse population. Her experience involved advocating for individuals with physical, mental and emotional disabilities, senior citizens and poverty-stricken clients. She has worked with individuals and families ranging in age from birth to age ninety-eight. In her role as a paralegal she was responsible for case maintenance, legal research and drafting of legal documents as well as educational community presentations.
Wendy has over sixteen years of experience working in the field of early childhood, ranging from Parent Educator to new parents of at risk children in the Parents as Teachers Program to Technical Assistant (TA) to day care providers. In addition, she was a trainer in the field for early child care providers. She was trained and certified at both the State and National level as a Childcare Health Consultant and is proud to say that she was in the first group of TAs to get the Delaware Stars Program started in Delaware.
Since May of 1998, Wendy has served as the Executive Director of the Governor's Advisory Council for Exceptional Citizens (GACEC). Since being at the GACEC, Wendy and the agency have made great strides in bringing awareness and advocacy to the forefront. Wendy was instrumental in starting the GACEC Disability Education and Awareness Program (DEAP) which consists of training volunteers to conduct puppet shows for school age children.  Through the DEAP program Wendy also collaborated with a group of early childhood professionals to write a book called "All My Different Friends at School" and a few videos were produced on disability awareness. The Statewide Sleeping Bag Campaign was an idea that Wendy considered for some time.  The first campaign collected over 1100 sleeping bags for children in foster care and children who are homeless.  The Sleeping Campaign has now been expanded into the Heart 2 Hearts Hugs Campaign which collected and distributed thousands of warm and cozy new or handmade items (scarves, gloves, hats, coats, sweaters, etc.) to children who are homeless or in foster care.
During her time with the GACEC, Wendy has worked on many bills that positively impact individuals with disabilities and their families. A few of the bills that she is most proud to have worked on include the following:
Senate Bill 100
Senate Bill 100 created standards, policies and reporting procedures for the use of restraints and seclusion in public schools.
Title 14
Legislation was passed to amend Delaware Law Title 14, Chapter 228 - 4125 making it possible for students with disabilities who have not passed the Delaware driver's education test to take the test again.
House Bill 310
Delaware House Bill 319 created the Employment First Initiative which promotes competitive employment opportunities for people with disabilities. This bill directly complements Governor Markell's initiative to increase the employment of people with disabilities in Delaware.
Executive Order 84
Delaware Executive Order 84 formed a Task Force to review and research the shortage of speech language pathologists in Delaware and the lack of Delaware colleges that offer classes for Speech Language Pathologist (SLP) accreditation.   Several years after the report with recommendations was released, funding was appropriated for the University of Delaware to research and implement an SLP program.
HouseBill 123
House Bill 123 proclaims the month of October to be "Disability History and Awareness Month" in all Delaware public schools.
House Concurrent Resolution 33
House Concurrent Resolution 33 proclaims the month of October to be "Disability History and Awareness Month" in Delaware center and family based pre-schools and childcare programs.
House Concurrent Resolution 34
House Concurrent Resolution 34 created the State Transition Task Force for Emerging Adults with Disabilities and Special Health Care Needs.  This Task Force reviewed the transition needs of students with disabilities and special health care needs and made recommendations on resources needed for this population.  Wendy co-chaired this Task Force which issued its final report in 2013.
House Concurrent Resolution 31
House Concurrent Resolution 31 created the State Transition Task Force for Centralizing Internet Resources for Children with Disabilities and Special Health Care Needs from Diagnosis through age 13. Wendy is currently co-chairing this Task Force.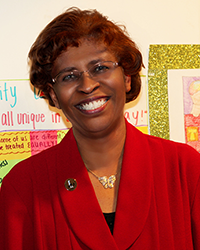 Office Manager/Administrative Assistant
Kathie Cherry is the wife of a retired U.S. Air Force Chief Master Sergeant, mother of three adult children and grandmother to one grandchild. Two of her three children are on the Autism Spectrum, a factor that has directed Kathie's life since the early 1980's.  The family moved to Delaware in 1997 so their son could attend the John S. Charlton School, which is the Kent County center for the statewide Delaware Autism Program.
Before moving to Delaware, Kathie began her foray into advocacy by starting a parent support group in her community for families of children with disabilities called "People Who Care".  She was later employed by the New Mexico Autism Program as a Parent Liaison for three counties and by the Arc of New Mexico as a Parent Coordinator and grassroots advocate. 
Her need to learn led her to the Partners in Policymaking advocacy training program in 1995 and to the same program in Delaware in 2000.  Kathie worked for the Client Assistance Program for three years before joining the Governor's Advisory Council for Exceptional Citizens (GACEC) in November of 2000. 
Having taken college classes for a number of years in a number of locations around the Country, she finally graduated from Delaware Technical and Community College in Dover in 2009 with an Associate's Degree in Human Services. 
Kathie continues to be an active member of Autism Delaware and the Arc of Delaware and is able to provide information on disability issues to the community through her work with the GACEC.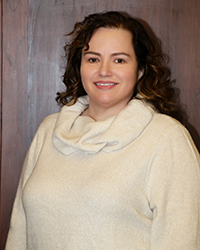 Administrative Coordinator
Sybil Baker is a native Delawarean, mother of two, and passionate advocate for individuals with disabilities. She believes that every person should be afforded the same rights and opportunities in life, regardless of disability. She believes that having high expectations for individuals with disabilities encourages growth and independence. Sybil raised her son, who has Autism Spectrum Disorder, to be a self-advocate, to make sure his needs were met and that his voice was heard. She advocates for autonomy and independence for individuals with disabilities. Sybil earned an AAS in Human Services from Delaware Technical and Community College and a BS in Psychology from Wilmington University. She lives in Townsend with her husband Shane.

The DelAWARE DisABILITY Hub website includes links to other Internet and third party resources. These resources are provided for your consideration only and are not intended to be considered an endorsement. Likewise, the exclusion of an agency or organization does not imply disapproval or a lack of support by GACEC, or DelAWARE DisABILITY Hub.